This is one of a series of brief, no nonsense posts that we call aTidbit:
noun; small and [possibly] particularly interesting item of gossip or information...
The purpose is to share succinct posts about lessons learned, or things we use or do that work [or don't...] that are common to most of us boaters.
The goal is to garner feedback from those of you having first-hand experience with a different approach/ solution/ product/ or additional useful information to share...
We never assume what we are sharing is the ideal or only; it just seems to best suit our needs [and/or habits and/or budget] from our experiences thus far...
Note: The original blog post [below] has been inducted into Tidbits since it qualifies, but was published 3 years before we initiated the Tidbit series...
➛ ➛ Peruse the right-hand sidebar for the up-to-date list of Tidbits ➛ ➛
We've been researching DIY options for replacing our 'canvas' dodger and bimini with hard tops using the existing 1" stainless steel frames, and adding a rigid windshield to the dodger.
Sounds like a great spring 2017 2018
2019
project, doesn't it?
Following are the current finalists in my order of preference by
method,
then
approach
.
———— Latest revisions: 30-Apr-2019 [by Bill] ————
Hard Dodger made with lexan sheets [polycarbonate] for top, windshield, and sides

Translucent Polycarbonate [Lexan] reinforced panels [Hard to Top]
Fabrication from scratch:
Third Party Manufacturers:
[A sampling; not a comprehensive list.]
Related Resources:
Materials Research:
Top:

HDU [High Density Urethane] board instead of Starboard or as core with FRP skins
FRP Skins [glued back-to-back either with or without foam core]

Opaque polycarbonate sheet

See above article

Hard Dodger made with lexan sheets from Cruising World

Windshield:
I'll keep adding to this list as I find viable resources in an effort to narrow our focus, and as a source of ideas for a possible hybrid approach. [...And as a rational for procrastinating...]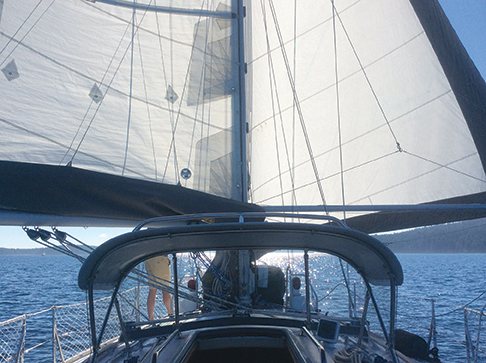 1/2" Starboard formed to match existing dodger frame.
(Photo from Roger Dodger article linked above...)